29. februar 2016
Warning: Undefined variable $result in /customers/d/1/6/beltoft.dk/httpd.www/blog/wp-content/plugins/random_image.php on line 89 Warning: A non-numeric value encountered in /customers/d/1/6/beltoft.dk/httpd.www/blog/wp-content/plugins/random_image.php on line 239 Warning: A non-numeric value encountered in /customers/d/1/6/beltoft.dk/httpd.www/blog/wp-content/plugins/random_image.php on line 239 Warning: A non-numeric value encountered in /customers/d/1/6/beltoft.dk/httpd.www/blog/wp-content/plugins/random_image.php on line 174 Warning: A non-numeric value encountered in /customers/d/1/6/beltoft.dk/httpd.www/blog/wp-content/plugins/random_image.php on line 174
I forbindelse med arbejde var jeg i Weimar-området i delstaten Thüringen i det gamle Østtyskland, hvor KZ lejren Buchenwald lå. Buchenwald var en af Tysklands største KZ lejre, som fra 1937 til befrielsen i april 1954 havde sammenlagt ca. 250.000 indsatte, hvoraf ca. 60.000 døde af de forfærdelige forhold der var i lejren.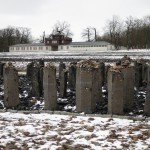 På bjerget Ettersberg, hvor Buchenwald ligger, er der en serie på 4 geocaches som består af to multi-caches og to mystery-caches. Serien er lavet af MaKaTo.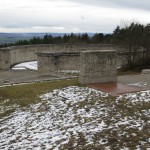 Første cache Buchenwald-Cache 1/3 (GC1FJDH) er en multi-cache, hvor der skal indsamles en del oplysninger, og vejen kommer forbi mange af mindesmærkerne for Buchenwald. Turen går bl.a. forbi 7 beton-klodser der viser scener fra livet i lejren. Man kommer også forbi 18 flammeskåle på betonpidestaler, 3 massegrave og klokketårnet.
Anden cache Buchenwald-Cache 2/3 (GC1FKFG) er en mystery-cache, hvor turen går forbi selve lejren og ned langs den ene side af lejren, hvor de gamle betonpæle til det elektrificerede pigtråd stadig står. Selve cachen ligger i udkanten af en ruin, hvor man kan risikere at blive set. Det ser ikke ud til at man må gå der, men det er altså der cachen ligger.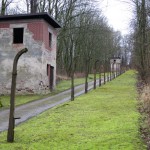 Tredie cache Buchenwald-Cache 3/3 (GC1FKHR) er en multi-cache, som har en lille twist til sidst. Man finder et filmhylster, som har koordinater til sidste cache.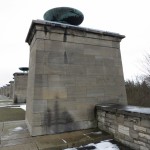 Fjerde og sidste cache Buchenwald-Cache 3/3 – Bonus (GC1FMBH) er en lille cache, som man snupper på vej ud af Blood Road, som blev bygget af lejrens fanger.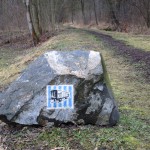 Ud over disse fire caches nåede jeg at logge tre andre caches i området, inden weekenden var forbi og jeg igen skulle på arbejde.