27. april 2014
Warning: Undefined variable $result in /customers/d/1/6/beltoft.dk/httpd.www/blog/wp-content/plugins/random_image.php on line 89 Warning: A non-numeric value encountered in /customers/d/1/6/beltoft.dk/httpd.www/blog/wp-content/plugins/random_image.php on line 239 Warning: A non-numeric value encountered in /customers/d/1/6/beltoft.dk/httpd.www/blog/wp-content/plugins/random_image.php on line 239 Warning: A non-numeric value encountered in /customers/d/1/6/beltoft.dk/httpd.www/blog/wp-content/plugins/random_image.php on line 174 Warning: A non-numeric value encountered in /customers/d/1/6/beltoft.dk/httpd.www/blog/wp-content/plugins/random_image.php on line 174
Torsdag d. 24/4-2014 gik jeg igang med cache-serien Langt ud' i skoven (GC4CP3Y), som ligger i Rønhøj Plantage lige op ad De Himmerlandske Heder, nærmere bestent Vindblæs Hede. Turen startede efter arbejde med at parkere ved findestedet for Skarpsallingkarret. Det er ca. 150 m fra vejen.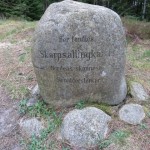 Det gik rigtigt godt med cache 1-3, men jeg kunne ikke finde nummer 4 og 5. Cache nummer 7, 8, 10 og 12 kunne jeg heller ikke finde. På sidste halvdel af serien kommer man igen ind i plantagen, hvor jeg så en del knækkede træer.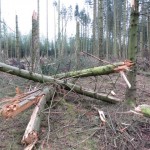 Men selv om jeg ikke fandt dem alle, så var det var en fantastisk tur på ca. 7 km og to timer.
Søndag d. 27/4-2014 gik jeg igang med cache-serien Hedetur (GC4CGKJ), hvor familien gik med på de første 5-6 geocaches. Resten tog jeg selv, mens konen og sønnen tog hjem og så finale i håndbold.
Nede omkring cache nummer 11 fandt jeg spor over heden, hvor studene trak vogne over heden for mange år siden.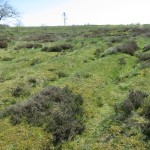 Fra cache nummer 13 – 15 forsøgte nogle køer af racen Skotsk Højlandskvæg at finde ud af hvad geocaching gik ud på, men de forstod det ikke, og tabte interessen.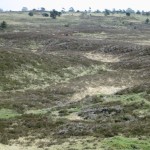 De resterende geocaches til nummer 23 ligger langs en vej udenfor græsningsarealerne, så der kan man gå i fred. Geocache nummer 20 kunne jeg ikke finde. De sidste to gik smertefrit, og jeg var tilbage ved bilen ca. 2,5 timer efter jeg startede. Turen var på ca. 7 km.